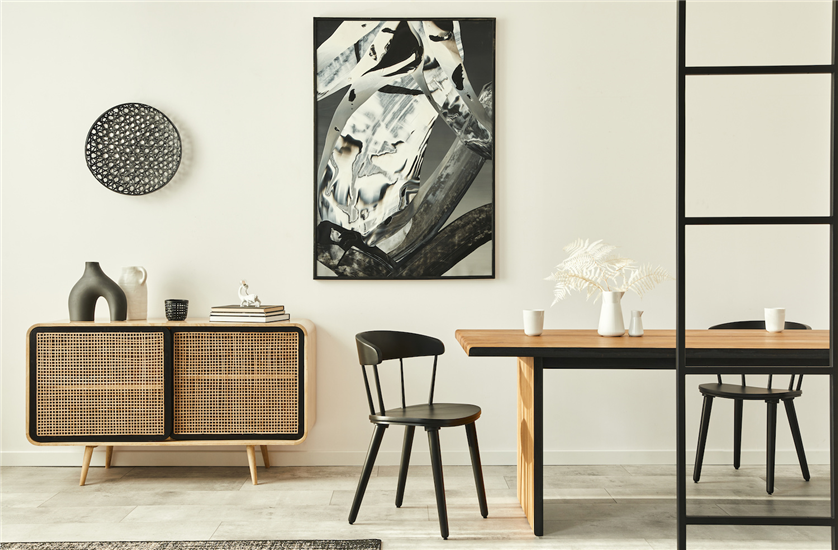 Your home is your haven and should always reflect your personality. Adding art to your home decor is perfect for curating a unique space.

Displaying your pieces in the right way can make all the difference. From selecting the perfect wall to choosing a suitable layout, there are many things to consider.
In this article, we'll explore some of the best ways to showcase art for the home, giving you the inspiration and guidance you need to create a space that truly reflects your style.
The importance of art in home decor
Art in the home goes back centuries, as far back as the historic cave paintings. It's proven to make us happier! With art, we can express ourselves, our style, our emotions, and our thoughts in a visually appealing way for others to enjoy.
The importance of art in home decor lies in its ability to transform our living spaces into sanctuaries that reflect our inner selves. By incorporating art into our homes, we create an environment that is visually stimulating and deeply personal. Art allows us to connect with our emotions, memories, and experiences, fostering a sense of well-being and contentment.
Art also has the power to bring people together, acting as a conversation starter and helping to create a sense of community within the home. Displaying thought-provoking pieces can spark discussions among family members and guests, fostering deeper connections and a shared appreciation for creativity.
In addition, art can anchor a well-designed space, helping to tie together various elements of a room's decor. A carefully chosen piece can bring balance, harmony, and visual interest, elevating the overall aesthetic and making the space feel complete.
How to display art in your home
Before we come to different art hanging styles and arrangements, there are a few elements to consider.
Firstly, you need to choose the right wall. Have a moment to consider the layout of your space and where your art will belong. If you want somewhere visible and accessible, an already cluttered wall may not be the best choice.
Typically, people hang their art around one and a half metres from the floor at eye level. However, you'll need to consider your wall height and furniture so it doesn't end up hidden behind a particularly tall armchair.
Using the proper hardware is vital to ensure your wall art stays on the wall. This will vary depending on the weight and size of the piece. Don't forget to use a spirit level to ensure it's straight!
Art display ideas for your home
And now the fun part – layout options.
Big and bold
Sometimes you just can't beat a statement piece. A large original painting often looks better on its own, without anything else to share the limelight. Choose a piece you love that works well with your interior style and hang it somewhere to draw all the attention it deserves.
Gallery wall
A gallery wall is an excellent display option if you have a substantial art collection. You could go for a classic organised grid format or go wild! Mix and match different art styles, frames, and sizes for an eclectic and visually stimulating presentation.

You could add a few personal touches, such as family photographs or souvenirs from your travels, to make it truly unique.
Statement stairs
Transform your staircase into an art exhibit by hanging artwork along the stairwell wall. Choose pieces that follow a cohesive theme or colour scheme, and arrange them in a stair-step pattern that ascends with the steps. This approach adds visual interest and gives you the opportunity to enjoy your artwork every time you climb the stairs.
Twins or triplets
If you prefer something on a smaller scale, a pair or collection of three pieces that complement each other with similar characteristics can make a simplistic yet stunning arrangement. Pair with the same type of frame for that perfect, clean look.
Picture shelves
Looking for a more adaptable solution? Picture ledges are versatile and allow you to switch your artwork easily. Install these shallow shelves in your home and lean your framed pieces against the wall to create an effortlessly chic vibe.

It offers an excellent opportunity to layer and overlap different sizes and styles of art so you can rearrange them to your heart's content.
The key takeaway
Incorporating art into your home decor is a powerful way to create a living space that truly reflects your personality and style. By exploring creative ways to display your artwork, such as gallery walls, statement stairs, or picture shelves, you can turn your home into a sanctuary that brings joy, inspiration, and a sense of belonging.
So, go ahead and transform your home into a personal gallery that speaks volumes about who you are and what you love. With a bit of imagination and careful planning, you can create a space that is visually appealing and deeply meaningful, ensuring that your home remains a true reflection of you.