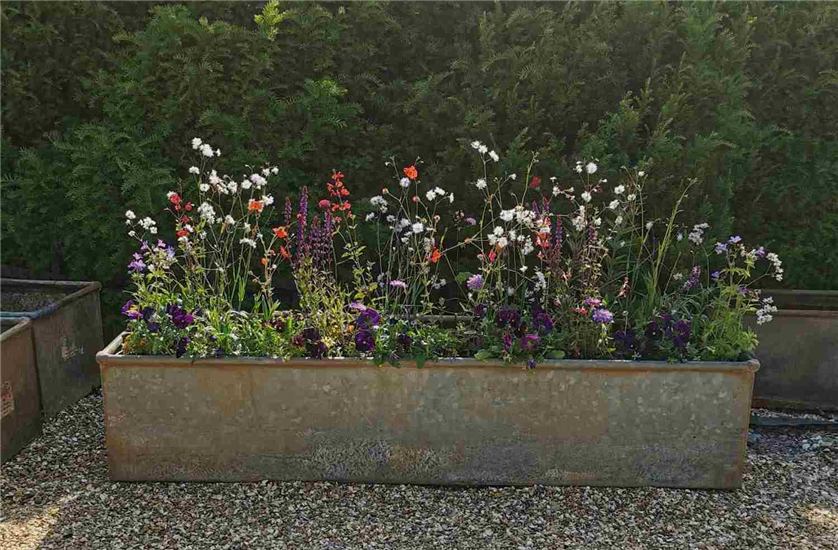 Looking for quirky garden planters to give your outdoor space a unique feel? We've curated a list of creative ideas for plant containers taking inspiration from the antique sellers here at Hoarde Vintage.

You'll find plenty to get your creative juices flowing, from rare finds and vintage plant pots to things you would never have thought to use as a planter.

1. Antique grape harvesting buckets
We're jumping straight in at the creative deep end with grape harvesting buckets. Robust and weather-proof, these buckets make perfect planters (and they're a great talking point!).

The buckets pictured here are made from sycamore with wrought iron banding. They date back to 19th-century France, where they would have been used for carrying and collecting grapes at the local vineyards.
You could also use these buckets for storing logs and firewood.

Picture credit: Reginald Ballum
2. French confit pots
We're staying in France with number two on our list of quirky garden planters. Originally used for preserving meat in the 19th century, these pretty earthenware pots are used as planters today.

The pots were designed to be buried in the cold ground with cooked meats inside to preserve them (confit literally means 'to preserve'). The upper half of the pot was typically glazed to protect the terracotta.
Picture credit: Feraland
3. Vintage aluminium milk churn
This is one of the most charming on our list of creative ideas for plant containers. If you can get your hands on one, vintage aluminium milk churns make fantastic garden planters, and just like the grape harvesting buckets, they're a great talking point.

The one pictured (circa 1950s) still has its original lid. This vintage piece would look just as much at home inside as it does outside – if you ever decide to repurpose it, it would make a great umbrella stand!
Picture credit: Mayfly Vintage
4. Copper watering can
This charming watering can may no longer be used for watering your plants, but it would make a quirky container for displaying them. Made from copper, it has an aged look which lends itself well to rustic garden designs.
The watering can pictured dates back to early 20th century France. It would look fabulous over-flowing with vibrant flowers in your garden or equally at home inside on a shelf or sideboard.
Picture credit: AD&PS
5. Vintage galvanised trough
If you've got a large display of plants you want to showcase in your garden, a large vintage galvanised trough is ideal. Functional yet modest, rest assured your plants will remain the star attraction with this type of planter.

The one pictured at the top of this post from Gabriella Knight is 6ft long, but they come in various sizes, shapes, and materials. In fact, it's one of the most versatile planters on our list of creative ideas for plant containers.
Why choose a vintage planter?
It would be easy to go and buy a plastic planter from the supermarket, but what you make up for in convenience, you lose in authenticity.

If you choose to fill your garden with vintage planters, you'll be introducing a sense of history and character that you can't get from modern, shop-bought counterparts.

Their unique charm sets them apart from everything else, which is what makes them great candidates for creative ideas for plant containers.