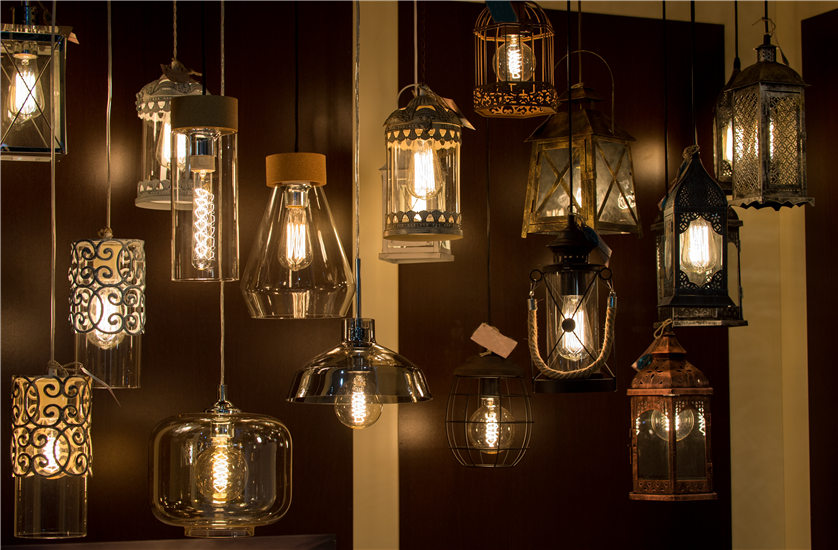 It may not be the first thing you notice when you walk into a room, but lighting is a staple of interior design. Imagine how different the room would feel if you replaced its carefully chosen light fitting with a bare bulb hanging from a flex.
The right lighting can change the atmosphere in a space, and affect the way you use a room.
Vintage lighting is as functional as it is stylish, which is one of the many reasons for its rise in popularity. In this blog, we look at how to choose the right lighting and the things you need to consider if you're thinking of buying a vintage light.
What is vintage lighting?
When we talk about vintage lighting, we're referring to lights that were produced anywhere between the 1920s and 1970s. This was a time of great innovation in the lighting industry – new materials were made available, and there was a desire to move away from traditional designs.
In 1935, the UK's National Grid was rolled out, and by the end of the 1930s, the number of homes wired for electricity had risen to nearly two-thirds (up from just 6% in 1919) driving demand for quality lighting.
The competition in the industry drove new and better designs, but by the 1970s, production costs were being prioritised over quality, and plastic components were introduced.
This marked the end of a golden period in lighting design and what we refer to when we talk about the vintage period.
Vintage lights from around the world
Italian lighting design is probably the first thing that comes to mind when you think about vintage lights. Gio Ponti, Gaetano Sciolari, and Gino Sarfatti are names that are still sought after in the vintage market.
The last name on this list – Sarfatti – is well known for designing the iconic Sputnik chandelier.
Named after the Soviet Union satellite that orbited Earth in 1957, the Sputnik designed by Sarfatti had four antennae that pointed in different directions to distribute light evenly.
Originally an aeronautical engineer, he referred to it as 'rational light' because of its efficiency and simplicity.
Italy is also known for its lights designed using Murano glass shades– hand-blown on the Venetian island of the same name. These distinctive colourful lights are still being produced, and continue to command a high price.
Britain's lighting design in the 1930s
In 1930s Britain, the rise in factories and workshops increased demand for better task lighting, as more people were working hunched over their desks.
Renowned car designer and engineer, George Carwardine, answered their call with a new type of lamp that used a spring and pivoting arm to angle the light over the desk without the need for counterweights.
The production of Carwardine's light was outsourced to Herbert Terry, and the first model was made available in 1935 under the name of the Anglepoise lamp. The functionality of the articulated lamp continues to be useful today.
If you're looking for vintage lighting, it's also worth considering designs from other parts of the world. Designers in Scandinavia and Eastern Europe are responsible for producing many of the iconic lights that fall into the vintage category.
How do you pick good lighting?
Choosing your lighting starts with an understanding of what you want to achieve from the space. Is it a place for relaxing, working, entertaining, or all three? In rooms that serve more than one purpose, flexibility is key, and this is where having a tiered system of lighting works best.
Interior designers suggest having lights on three or more levels – ceiling lights, wall lights, and table or floor lamps.
Ceiling lights are there to provide the main light in a room during the day, with wall lamps reserved for giving off a soft glow that creates a subtle ambience. Lastly, table and floor lamps are there to light a subject rather than a room, like the task lighting we introduced earlier.
Having more than one option gives you the flexibility to combine separate levels of lighting at different times of day to reflect what you're doing, and the mood you want to set.
Picking your lights by room
When it comes to picking the right vintage light fittings for the rooms in your house, you are spoilt for choice, but that comes with its downfalls because it can feel like an overwhelming decision. To help you narrow down the selection, follow our top tips for picking the right lighting.
Kitchen/dining room
Your kitchen lights need to be bright enough for cooking, but if the space doubles up as a dining area, then you'll also need a fall-back position for creating the right mood for entertaining.
Consider having a bank of lights for the kitchen and a separately-controlled light bar over your dining table that you can use when you're eating. Having a statement piece over your dining table makes a great design feature and gives you the option to isolate the lights in this area.
Look out for the PH lamp from Danish designer, Poul Henningsen, which was made to distribute a soft glow and reduce glare. This distinctive vintage pendant light has a three-tiered lamp shade, and it works well when used as a pair over a focal point, like a breakfast bar or table.
Bedroom
Vintage wall lights for the bedroom create just the right ambience for winding down at the end of the day, and they also double up as task lamps for reading in bed.
As an alternative to bedside lamps, consider using wall-mounted machinist lamps like those from British manufacturer, Mek-Elek. This type of lamp has a long, extendable arm that makes the perfect reading light, and its metal finish gives it a vintage/industrial feel.
If you can't afford to buy a vintage lamp, there are plenty of modern alternatives on the high street. You could also try adding a dimmer switch to your ceiling lights, so you can turn down the lights when you want to create a relaxing atmosphere.
Living room
If you've always dreamed of having an antique-style chandelier somewhere in your home, then the living room is probably the best room for it. It's the perfect place for a statement piece, but just make sure you've got enough space before you hand over your money for an expensive light.
Table lamps and floor lamps at eye level are important for creating comfortable lighting in this room.
Art deco table lamps add a touch of elegance to a side table, and although they fall outside of the vintage period, Tiffany stained-glass lamps are also popular with design enthusiasts.
What should you consider when buying vintage lighting?
Vintage light fittings make beautifully crafted additions to any home, but there are some things you need to consider before you buy.
When you're looking for a light, check to see if it has been PAT tested and labelled with the date.
Most reputable antique dealers make the necessary changes to their light fittings before they sell them. If you're planning to buy a vintage electrical item from a car boot or flea market, then we recommend you have it checked by an electrician before you install it.
It may need rewiring to bring it up to current electrical standards, and the lamp holder may need to be changed to fit today's bulbs.
If you've enjoyed reading this blog, you might also like our post on how to use the Tiffany lamp in your interior style.